The Seaweed Martini
by Stewart Thomson of Ox and Finch, Glasgow, UK.
"Enjoy a complex range of savoury, salty, organic, fresh, mineral and grassy notes... "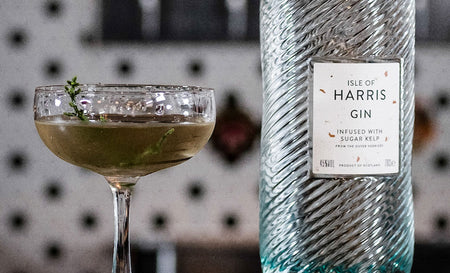 Ingredients:
50ml of Isle of Harris Gin, infused with Nori seaweed
25ml Barbadillo Fino Dry Sherry
A pinch of Maldon Sea Salt
Pickled Samphire (Water, sugar and Vinagre de Jerez)
Methodology:
Infuse one 70cl bottle of Isle of Harris Gin with one sheet (25g) of dried Nori seaweed.
Infuse for no longer than 6 hours, allowing the spirit to take on even more maritime flavour. (The Nori will also change the colour of the gin, adding hints of green.)
In a small Kilner jar, pickle freshly gathered Samphire in equal parts water, sugar and Vinagre de Jerez. Pickle in the liquid for at least 6 hours.
Add the infused Isle of Harris Gin, sherry and sea salt to a mixing glass.
Stir ingredients with ice until heavily chilled and slightly diluted.
During this time chill a Champagne coupe glass.
Julep strain the mixed spirit into the coupe.
Finally, garnish with sprigs of the pickled samphire.
Notes:
Stewart Thomson is the manager of Ox and Finch, an award-winning restaurant in the food-lovers district of Finnieston, Glasgow. Ox and Finch holds a Bib Gourmand from The Michelin Guide Great Britain & Ireland 2018, the fourth consecutive year it has held this award. ​
" The inspiration for the Seaweed Martini came from the classic Gibson Martini. I wanted to do something using a pickled element and, of course showcase the excellent Isle of Harris Gin. A seashore plant, the samphire was the obvious garnish to complete, based on the coastal qualities of the cocktail. You'll enjoy a complex range of savoury, salty, organic, fresh, mineral and grassy notes throughout. "