The Coast to Coast Martini
By Adrian Gomes, 10 Dollar Shake, Aberdeen, UK
"Dirty and savoury...extra virgin olive oil, east coast vermouth, west coast gin and sea salt."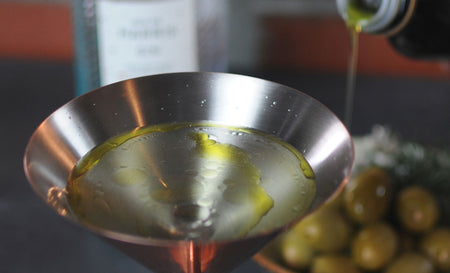 Ingredients:
60ml Isle of Harris Gin
30ml quality Extra Virgin Olive Oil
10ml Wermod Great British Vermouth
3 drops of Cardamom Tincture
A pinch of Maldon Smoked Sea Salt
A piece of Bitter Orange Peel
Methodology:
Add Isle of Harris Gin and the olive oil to a small jar and shake vigorously.
Leave to sit for a few hours then pour off the infused spirit using a fat separator jug.
Add the oil-washed gin, vermouth, tincture, smoked salt and orange peel to a mixing glass.
Add a large block of ice and stir until well-chilled.
Strain into a chilled copper V-shaped Martini glass.
Garnish with a swirl of the remaining olive oil.
Notes:
Adrian Gomes is the owner of '10 Dollar Shake', a high-end cocktail company offering boutique embibing experiences via their pop-up bar, talented bartenders and outstanding events in unique locations. He also runs 'The Tippling House', a late-night tavern serving fine spirits and hand-crafted cocktails, and Rye & Soda, an Anglo-American brunch cafe by day and juniper-led spirits bar by night.
"I like my Martinis dirty and savoury, so I started with the classic 'Dirty Martini' garnish, the humble olive. Fat-washing the gin with a European virgin olive oil, I've gone with a 6:1 gin-heavy ratio, including an Edinburgh-based vermouth producer. The cardamom adds a certain sweetness, whilst the smoked sea salt lifts the more delicate flavours in the drink. Rather than finish on the obligatory olive garnish, I'm infusing the bitter oils from an orange peel to emphasize the citrus element of the vermouth. In homage to the copper still that Isle of Harris Gin is distilled in, the drinking vessel is also made out of copper, a metal said to have numerous health benefits if used to consume water from."