The Clove Club Coastal Martini
By Rob Simpson, The Clove Club, London, UK.
"A deeply savoury Martini, loaded with umami that leaves your palate refreshed and yearning for the next one..."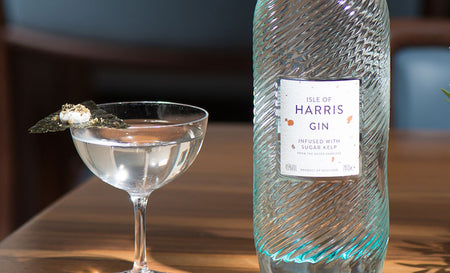 Ingredients:
60ml Isle of Harris Gin
10ml Dashi-infused Dolin Vermouth de Chambéry (Dry)
5ml Verjus
A dash of Sugar Kelp Aromatic Water
Methodology:
For the Vermouth, take two tablespoons of Dashi powder and add to 500ml of the Dolin Vermouth de Chambéry
Place in a sous-vide bag and into a water bath at 50°C for 30 minutes. Remove, place bag in ice water to cool and then strain through a fine filter.
For the garnish: Make a Seaweed & Beremeal Crumble, Oyster Cream and Nori Sheets cut into triangles (See Notes below for recipes)
Build your garnish first. Take a Nori triangle, ensure it is large enough to rest across the glass. In the centre, add a nice dot of the oyster cream then sprinkle with the crumb and set aside.
Add the Isle of Harris Gin, Dashi-infused Vermouth, Verjus and Sugar Kelp Aromatic Water to a mixing glass with ice and stir until thoroughly chilled.
Strain into a chilled coupette glass and carefully rest the premade garnish on the rim.
Notes:
Seaweed & Beremeal Crumble Recipe
300g/10½oz Beremeal Flour sieved with a pinch of salt
175g/6oz Unrefined Brown Sugar
200g/7oz Salted Butter
100g dried Sugar Kelp
Melt the butter in the pan and add 25g of the dried Sugar Kelp. Let this sit and infuse on a very low temperature for a couple of minutes, then strain off the butter while liquid.
Add the infused butter to the flour and sugar, then rub it all together until it becomes slightly clumped and almost sand-like.
Add in a big pinch of salt.
Blitz the remaining kelp in a blender to make a powder and mix it thoroughly into the crumble mix.
Spread the mix onto a baking sheet lined with baking parchment.
Put into a preheated oven and bake at 180°C for 15-20 minutes until golden.
Remove from oven and allow to cool.
Once cool, break it all up with your hands and crumble it down to a sand-like texture.
Oyster Cream Recipe: Take the liquid from 3 oysters (eat the oysters!) and add to 200g of whipping cream. Whip until stiff. ​
About:
This cocktail was created by bar chef Rob Simpson of The Clove Club, a Michelin-starred restaurant in East London. Voted #26 in 'The World's 50 Best Restaurants', the team is led by chef Isaac McHale, serving modern British cooking and thoughtful, precise and elegant food, presented in a relaxed and informal setting. ​​
"As an island spirit I wanted the drink to firmly evoke a sense of the sea, the spray and the coast. So, I chose to really accentuate these flavours in the liquid by infusing the vermouth with dashi. Given that dashi powder is normally used for stocks and soups, it makes the vermouth (and the final drink) much thicker and richer on the palate as well as adding a deep sense of umami to the drink. The verjus adds just a very gentle hint of acidity to the drink making the richness and feel refreshing as well as appetising. It was also a chance to use some ingredients that feature commonly on our menu which is heavily influenced with Scottish produce - the seaweed, oysters, dashi. It's a deeply savoury martini, loaded with umami that leaves your palate refreshed and yearning for the next one. For me, the Martini is the king of aperitifs - opening up the senses, priming them for the next mouthful... "