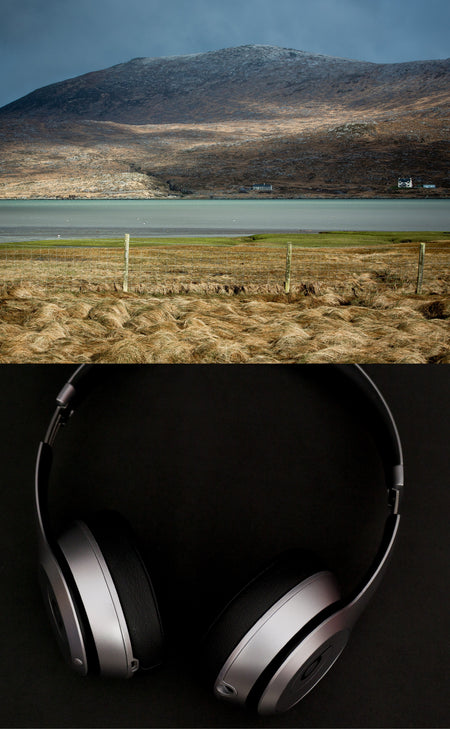 CEREMONY
rituals and connection
A SENSE OF CEREMONY
Connect With The Isle Of Harris
We want everyone who enjoys The Hearach single malt whisky to take some time to connect with us here in our Outer Hebridean island.
One of the ways we can help you do this is through sound and a sense of quiet ceremony.
So, put life on pause when you can, pour a dram, and press play on our specially created immersive soundscape by young island audio artist Fraser MacBeath.
Fraser recently won the RSA Benno Schotz Prize at the Royal Scottish Academy 197th Annual Exhibition, and spent much of 2023 traveling around Harris, speaking to local people and exploring hidden corners with his recording equipment.
The resulting piece of work weaves past and present, the noises of the natural world, and the lyrical melody and music of the men and women who call this place their home.
Join us over the coming months and years for more audio creations to accompany your dram of The Hearach single malt whisky.
CEREMONY 01: FRASER MACBEATH
Recorded in the Isle of Harris from January - July 2023
Featuring...
Fiona Langley, clarsach harp, Rhenigidale.
Jillian MacLennan, voice, tour guide at Isle of Harris Distillery.
Donald John Mackay, Harris Tweed weaver, loom sounds, Luskentyre.
Claire Wilson School of Dance, ambient noise, Isle of Harris.
Pupils and tutors, singing, Fèis Eilean na Hearadh 2023.
Iain 'Tosh' Macintosh and Neil Mackay, voices, 'Taigh Mo Shenar', Tarbert.
Lewis Mackenzie, voice, naturalist and kelp diver, North Harris Eagle Observatory.
Isla Scott, Ellie-Ceit Johnson, and Anna Macleod, singing, St Clements' church, Rodel.
Roddy Macleod, former lighthouse keeper, voice, Scalpay.
Katie Macinnes, fiddle, Crossbost.
Seilebost / Scarista / Scalpay / Rhenigidale / Leverburgh / Tarbert / The Clisham / Leverburgh / The Golden Road / Drinishader.
_
Immersive stereo audio recording. Best enjoyed with high quality headphones or audio equipment.
Mixed and mastered by Scott Jones and Fraser MacBeath © 2023
THE CEREMONY CONTINUES
COMING IN 2024
The small rituals in life allow us to reconnect with ourselves and each other.
We will continue to build on The Hearach's special sense of ceremony over the coming months and years.
From more local artist collaborations and island audio experimentations, to beautiful objects from which to build your personal, ritualistic pour, our forthcoming creations will help deepen your connection with us here in Harris.
There's much more to come in 2024...
"From Time To Time, Be Here."
SUBSCRIBE TO OUR STORY
STAY CONNECTED to the isle of Harris
Each week we bring you the latest news from our community, great photography and film about our work, as well as sharing updates on our beautiful Outer Hebridean spirits, all direct to your inbox from here in Harris.
JOIN THE HARRIS COMMUNITY