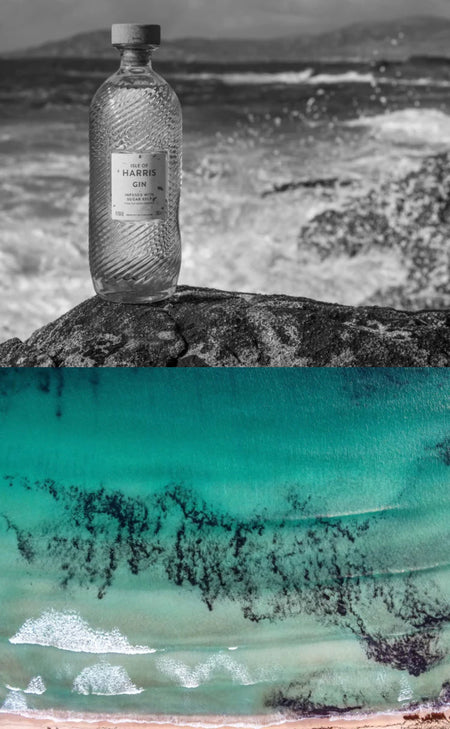 From The Sea
INSPIRED BY CLEAR OCEANS
ISLE OF HARRIS GIN IS FROM THE SEA
REFRESHINGLY COMPLEX MARITIME FLAVOURS
Our island spirit is made with local Sugar Kelp seaweed which helps to bring a subtle complexity to the gin.
It plays a starring role, helping to communicate a sense of the pristine coastal Harris environment to the discerning drinker.
Throughout, there is an elusive maritime note reminiscent of clear seas, island beaches, and fresh seaweed, which lifts and intensifies the other flavours.
There are sweet floral notes like coastal machair flowers and green leaves, while underneath lies a spice note of ginger and cinnamon bringing both depth and sophistication.

Finally, the finish is long and sweet with pine, red grapefruit, and a wonderful warm spice

MEET THE KELP MAN
THE DISTILLERY'S SEAWEED SUPERHERO
In Spring each year, the golden-green Sugar Kelp fronds become ready for harvesting by hand, carefully picked from our Outer Hebridean sea lochs, blemish-free and at their best for making Isle of Harris Gin.
We entrust this task to one man, our friend, naturalist, and diver Lewis Mackenzie, who selects every piece of this special seaweed from his secret underwater forests in a highly sustainable way.
As he protects the marine environment in his black and red dry suit, he cuts a heroic figure by the shores of Loch Erisort, so much so that we've now nicknamed him 'The Kelp Man'.
With only a few millimetres of neoprene to keep the cold waters at bay, Lewis collects the kelp by himself, free-diving during a two-hour window on either side of the fortnightly low spring tides.
After 30 years of diving, he always remains impressively enthusiastic about taking the cold plunge in pursuit of these wonderful, savoury-sweet plants, and the ecosystem and sealife this unique habitat supports.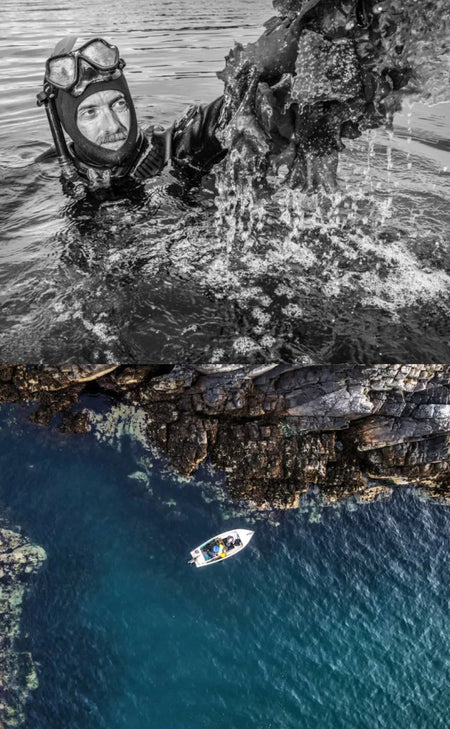 A CULTURE OF KELP
OUR ISLAND'S SEAWEED HISTORY
Our island has a long and fascinating history of seaweed use, full of highs and lows. 
The long narrow strips of croft land are testament to the tradition of allowing every family access to a small portion of the shoreline from which to gather this important plant. 
Seaweed would be used to feed livestock and would be applied to the soil to provide much needed nutrients for growing root vegetables.
During the Napoleonic wars a huge industry spring up around the harvest and burning of kelp to make potash, a vital ingredient for things like gunpowder and soap. 
Today, seaweed is gathered in a much more sustainable fashion, and used for health and beauty prodcuts, as a delicious ingredient for high-end restaurants, as well as in our own Isle of Harris Gin.
-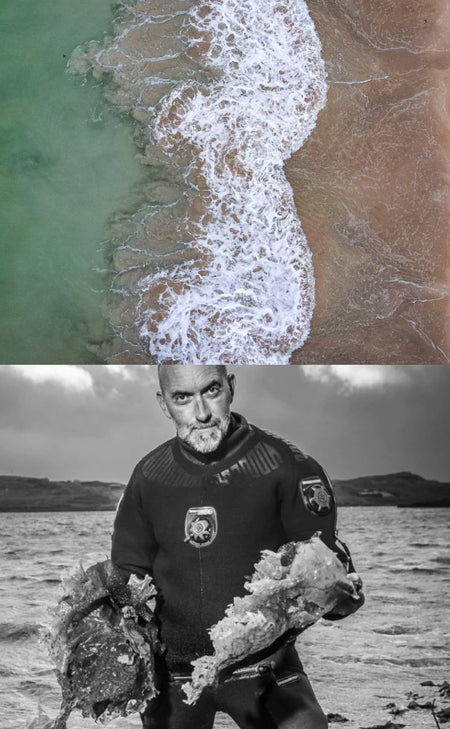 SUBSCRIBE TO OUR STORY
STAY CONNECTED to the isle of Harris
Each week we bring you the latest news from our community, great photography and film about our work, as well as sharing updates on our beautiful Outer Hebridean spirits, all direct to your inbox from here in Harris.
JOIN THE HARRIS COMMUNITY