OUR WHISKY
MADE IN THE ISLE OF HARRIS
FROM ISLAND HANDS
the LOCAL whisky makers
Our whisky is made with little automation, and we prefer to rely on the 'human touch' throughout our whisky-making.
Our local distillers use their judgement and experience to decide the cut-points by nose and sight, they manually adjust the steam valves, and process decisions are made as a team at every step on a daily basis.
The difference this makes to the final dram may be hard to define but we feel the use of island hands will bring something extra to the spirit we finally bottle.
The emphasis on people throughout the production process also serves to create employment that would otherwise be lost in a more 'push-button' operation.
-
The Hearach Whisky Makers
Norman Ian Mackay, Head Distiller, Luskentyre
Rebekah Morrison, Distiller, Tarbert
Thomas Macrae, Distiller, Ballalan
Paddy Sinclair, Distiller, Tarbert
Donald Macrae, Distiller, Scalpay
Shona Macleod, Head Blender, Carragreich
Harry Wood, Apprentice Blender, Drinishader
Billy Fraser, Casks & Maturation, Seilebost
Domhnall Macleod, Casks & Maturation, Scadabay
Scott Macleod, Casks & Maturation, Stornoway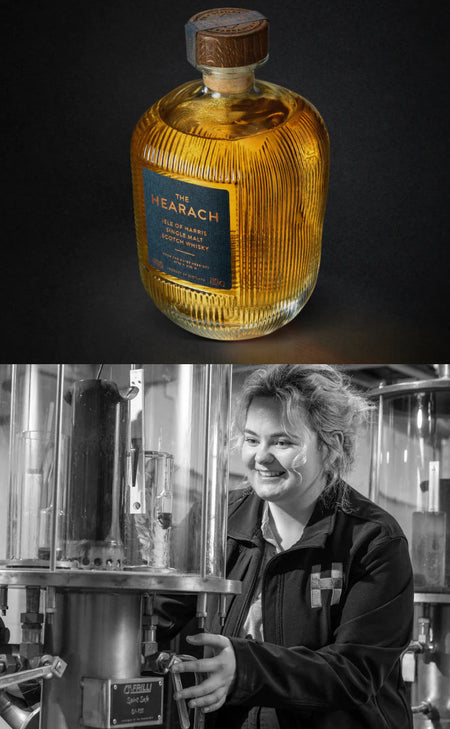 TASTING NOTES
Memory AND imagination
Our whisky is a Harris whisky, and we do not seek to emulate other drams or regions.
The elegant flavours of our whisky will be perceived differently by different people as they allow the complex character of our dram to unfold in their glass over time.

So, we won't issue any 'official' tasting notes and instead encourage folk to explore the scents and sensory experience of The Hearach single malt from a more personal point of view.

Instead, each batch will come with some simple words written by someone from our local community as they enjoy a glass and delve a little deeper into their island memories and imagination, to help things along.
|
" I get a gentle peat smoke on the first sip which reminds me of island home fires burning when I was growing up. It comes along with a toasted maltiness. I can also taste homemade apple sauce and smell machair flowers, particularly white clover which springs up on our west coast every summer. Mixed spices appear, and an old-fashioned sweetness from things like candied ginger, vanilla, and honeycomb. Finally, there's a long, clotted-cream note, mixed with a lasting sense of new leather. " 
Shona Macleod, Carragreich, Isle of Harris.
|
We'd also love to hear you own thoughts and memories evoked while enjoying your dram of The Hearach.
Email us with your own tasting notes here.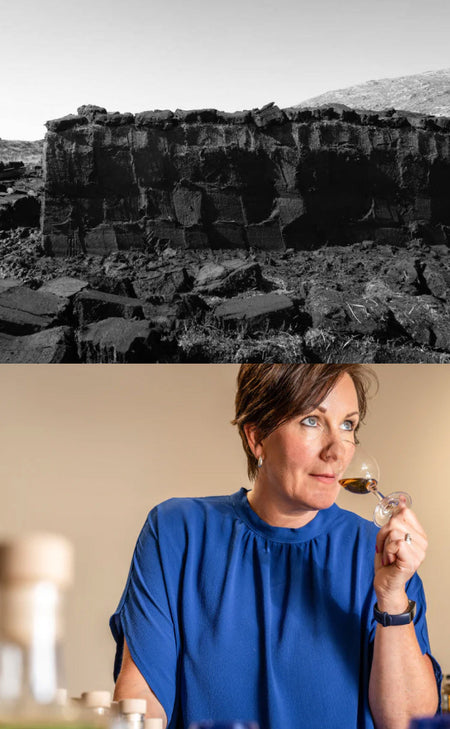 THE BASICS
A FEW THINGS TO KNOW
Every drop of The Hearach single malt whisky is distilled, matured, blended, married, and bottled here in the Isle of Harris and nowhere else.
Our distillers and blenders are all drawn from the local community and have been trained from scratch in the craft and science of spirit-making.
We have one of the youngest teams of distillers in Scotland with an average age of 25 years with the youngest Rebekah Morrison from the village of Bowglass being 21 years old.
Some key facts about the whisky they make...
|
Bottled at 46% abv
Non-chill filtered and no artificial colourings
Released in batches of around 12,000 bottles
Each batch is 'married' for a minimum of 12 weeks
The youngest spirit in each batch is 5 years old
Matured in first-fill ex-Bourbon casks, Oloroso and Fino butts
Lightly peated (12-15 ppm)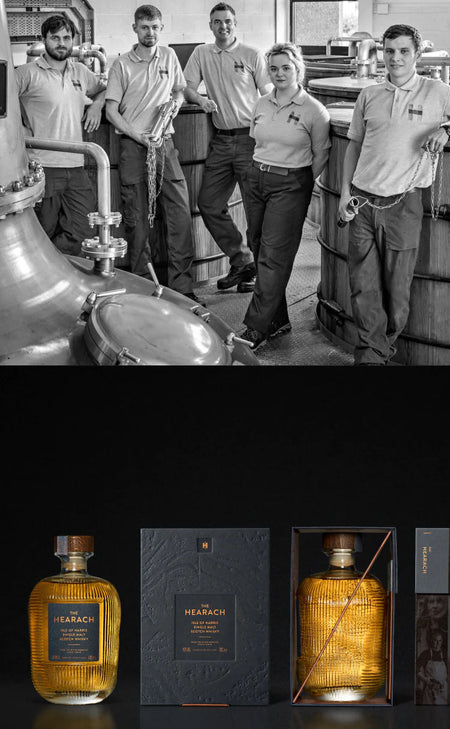 THE DETAILS
OPEN, STRAIGHT, AND TRUE
We want to be as transparent as possible about our whisky making.
Every batch is accompanied by an information sheet which outlines the specifics of that particular bottling. From the barleys and yeasts we use, to the fermentation times and cut points, we'll try to provide information where we can.
Each batch will be different but here are some of the details which will likely remain consistent to our core expression over the next few years...
|
Distilled and bottled at the Isle of Harris Distillery, Tarbert, Isle of Harris.
1st-fill Heaven Hill casks (21%) + 1st-fill Buffalo Trace casks (64%) + 1st-fill Oloroso butts (11%) + 1st-fill Fino butts (4%)
100% Scottish Concerto barley
Lallemand DistilaMax MV yeast
Water sourced from Abhainn Cnoc a' Charrain, Tarbert, Isle of Harris.
Fermentation times of 40% Medium (70 hours) + 60% Long (120 hours)
8000L Oregon Pine washbacks
5000L Spirit still (Eva)
7000L Wash still
Matured and married in Ardhasaig, Isle of Harris.
|
Please refer to individual batch sheets for more detailed information.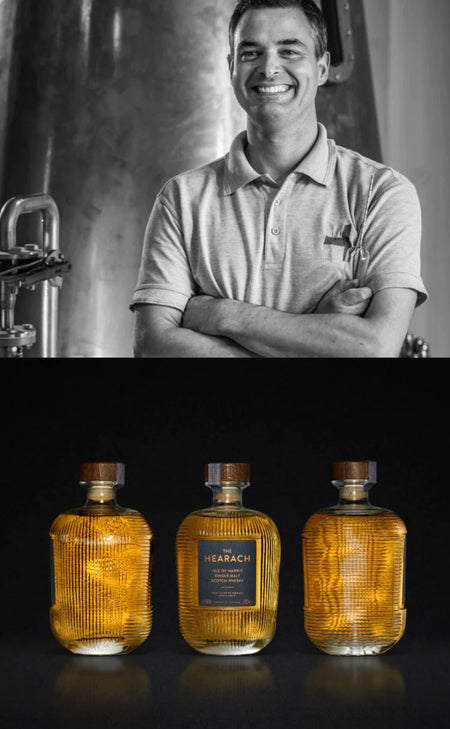 SUBSCRIBE TO OUR STORY
STAY CONNECTED to the isle of Harris
Each week we bring you the latest news from our community, great photography and film about our work, as well as sharing updates on our beautiful Outer Hebridean spirits, all direct to your inbox from here in Harris.
JOIN THE HARRIS COMMUNITY