Tarbert Sunset Martini
By James Sutherland of 56 North, Edinburgh, UK.
"It's evocative of sky, land and sea, as the sun is setting on the day."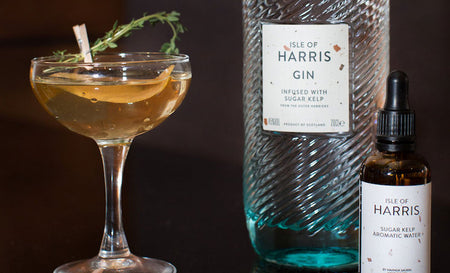 Ingredients:
60ml Isle of Harris Gin
5ml Vermut Lustau Sweet Sherry Vermouth
3 drops Isle of Harris Sugar Kelp Aromatic Water
Sprig of fresh Thyme
Pink Grapefruit peel
Methodology:
Place bottle of Isle of Harris Gin in freezer until ice cold.
Place a large block of ice into a mixing glass.
Add the gin, vermut, aromatic water and thyme to the mixing glass.
Squeeze a large twist of pink grapefruit into the liquid and drop the peel into the mixing glass.
Stir with a bar spoon for 2-3 minutes.
Strain slowly into a chilled coupe glass.
Squeeze a fresh twist of pink grapefruit over the drink and place into the glass.
Tie or clip a stem of fresh thyme onto the stem or rim of the glass to add a final, fragrant herbal aroma.
Notes:
James Sutherland is the co-owner of Edinburgh's 56 North, a cocktail bar, kitchen and now also a micro-distillery. Winner of 'Gin Bar Of The Year 2017' at the Scottish Gin Awards, this gin-bar-with-kitchen offers masterclasses, a spirit list that runs to several pages, and dozens of tonics and garnishes for your perfect pour. Their recent installation of working 50L copper stills takes their commitment to gin to another level, with limited edition releases to look forward to in 2018.
"With a slight pink / red hue this drink is reminiscent of the sun setting over the water. It has a touch of sweet sherry, freshness of pink grapefruit peel with the green notes of thyme, and the ocean notes of sugar kelp water. It's evocative of sky, land and sea, as the sun is setting on the day. Very simple but exceptionally tasty!"
56 North, 2 West Crosscauseway, Edinburgh, EH8 9JP.
Vermut Lustau is available from Berry Bros. & Rudd.
Sugar Kelp Aromatic Water available from our shop.