The Caper Ceilidh
By Lynsey Cameron, Bar Gandolfi, Glasgow, UK.
"The name is a play on both the Capercaillie bird, the caperberry which replaces the traditional olive and the island celebration of ceilidhs and community spirit."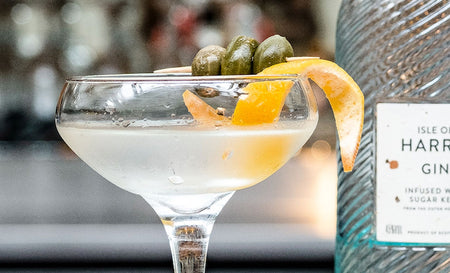 Ingredients:
60ml Isle of Harris Gin
12.5ml Dolin Blanc Vermouth de Chambery
2 drops Pink Grapefruit-infused Saline Solution
Caperberry brine
Red Grapefruit twist
Methodology:
Make the pink grapefruit saline solution by soaking zest of a red grapefruit in a simple saline solution (20mg salt to 80ml water).
Chill a coupe glass with ice.
Add 12.5ml of the Dolin Blanc vermouth to a mixing glass with ice.
Stir, then strain off and discard the vermouth.
Add 60ml of Isle of Harris Gin to the vermouth rinsed mixing glass and ice.
Add 5ml Caperberry brineAdd 2 drops of red grapefruit saline solution
Stir contents to chill thoroughly.
Fine strain into the chilled coupe glass.
Serve with garnish of 3 caperberries and a twist of red grapefruit.
Notes:
This cocktail was created by Lynsey Cameron of Bar Gandolfi, the excellent bar just upstairs from the legendary Cafe Gandolfi in Glasgow. Opened in 2002 in the attic area of the building, the bar offers the same superb wines, food and service as it's older sibling but in it's own unique, artisitic atmosphere and surroundings.
"I've always loved Harris as a clean, balanced gin, best suited to a Martini, which is why I have chosen to make this Martini almost bone dry. Taking inspiration from the distillery's grapefruit serve and of course, the island location and importance of the sea's influence on Isle of Harris Gin itself, I created a grapefruit-infused saline solution. I recommend two drops stirred in along with 5 ml of the Caperberry brine, for the perfect balance of salt and citrus balancing with the Sugar kelp flavour of the spirit. Dirty and with a twist!"