Isle of Harris Gin Cured Salmon With Beetroot Pickle
By George Lavery, North Harbour Bistro, Isle of Scalpay, UK
"Isle of Harris Gin adds depth while the earthy flavour of beetroot lifts the salmon flavour..."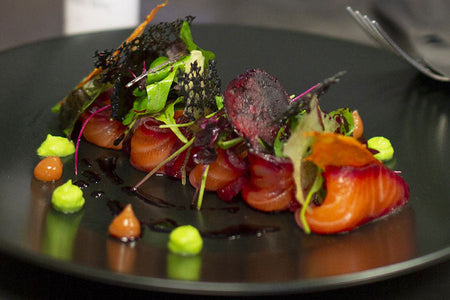 Ingredients:
One side of wild salmon pinned, skinned and trimmed.
10g Pink Peppercorns (Cure)
200ml Isle of Harris Gin (Cure)
1 Lemon zest (Cure)
500g Sugar (Cure)
500g Table salt (Cure)
1L Beetroot juice (Pickle)
175ml White wine vinegar (Pickle)
100g Sugar (Pickle)
10 Coriander seeds (Pickle)
1 Bay leaf (Pickle)
3 Cloves (Pickle)
150ml Cold water (Pickle)
Methodology:
Cut salmon in half, across the fillet.
Blend all the cure ingredients together in a large bowl or food processor.
Separate the cure mix into two portions.
Once separated, pour 1/3 of each portion into two containers large enough to hold a piece of salmon.
Place the salmon on top of the mix and add the remaining cure to cover.
Seal the containers and refrigerate for 12 hours.
Keep beetroot juice to one side for the moment.
Bring all the other ingredients to the boil, turn off heat and leave until cold.
When fully cold pass through a fine sieve, add beetroot juice and refrigerate until salmon is ready.
When the curing time is complete, remove salmon from containers and wash with cold water to remove all the cure mix.
Pat dry the salmon and wash out and dry the containers.
Place the dried salmon in the containers and cover completely with the beetroot pickle for 2 to 3 hours.
Turn the salmon over after 1 to 1.5 hours.
After soaking in the pickle, thinly slice and serve with salad.
Notes:
George Lavery is the owner and head chef at the award-winning North Harbour Bistro in the Isle of Scalpay, just a short drive from the Isle of Harris Distillery. George has worked across Europe but has shared his cooking talents with our island since 2014. Winner of Island Restaurant of the Year 2017, Gold Fish Medal 2017, Informal Fine Dining Chef of the Year 2018 and a Good Food Award 2019, his unassuming pier-side restaurant boasts a big passion for fresh local produce combined with stunning presentation of seasonal dishes.
"My inspiration for the dish came intially from a friend who was using red cabbage to cure cod. I thought with the abundance of wild salmon in the Outer Hebrides, I could adapt things to use beetroot and use the fantastic award-winning Isle of Harris gin to add more depth. The earthy flavour of beetroot lifts the salmon flavour and introducing its dark red juice transforms the delicate pink of the salmon to give a more elegant finish. I'd recommend keeping the cured salmon refrigerated for 6-7 days for best results and to allow the beetroot to slowly soak through. You will lose the two-tone aesthetic look but it will still taste great. And if there's any left over, try it on some toasted bread!"
North Harbour Bistro, North Harbour, Isle of Scalpay, HS4 3XU