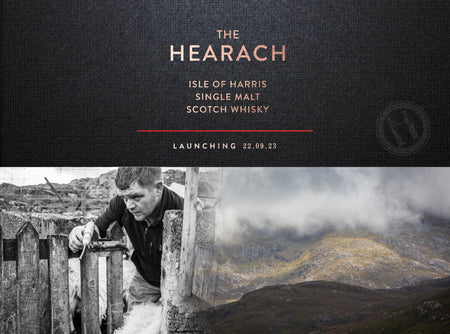 Be Here at 14.15 BST on 22nd September 2023 to livestream 'The First Dram'.
Join us live and online here, YouTube, and Facebook for an hour of music, stories, and raising a glass of Harris whisky for the first time.
Then join us online or in Tarbert at 10.00 BST on 23rd September 2023 to buy 'The First Release' in the UK.

WHEN DOES THE HEARACH GO ON SALE?
Our whisky will go on sale here in the UK at 10.00 BST on Saturday 23rd September 2023. The rest of the world will need to wait a little longer but our dram will be available in over 20 countries from October 2023.
-
WHERE CAN I BUY A BOTTLE OF THE HEARACH?
You can buy a bottle direct from the distillery through our online store or at the distillery shop in Tarbert. Small allocations of bottles will be available in selected independent stores across the UK from 2nd October 2023.
-
HOW MANY BOTTLES OF THE HEARACH WILL BE AVAILABLE AT LAUNCH?
There now will be 8 batches in 'The First Release'. Approximately 6000 bottles from Batch 1 and 3000 bottles of each of the other batches will be made available online that day. Similar amounts will also be available at our distillery shop in Tarbert. 
-
HOW MANY BOTTLES OF THE HEARACH CAN I BUY?
Purchases are limited to 1 bottle from each of the 8 batches, to a maximum of 8 bottles per person, both online and in our distillery shop.
-
HOW MUCH WILL A BOTTLE COST?
The Hearach will be on sale through our online store and distillery shop priced at £65.00. This is also our RRP in other UK stores. International prices will vary.
-
ARE YOU DOING ANY PRE-SALES OF THE THE HEARACH BEFORE RELEASE DAY?
There will be no pre-sale availability. A digital queuing system will be in place in our online store on release day to help manage demand and ensure fairness.
-
WHAT IS THE DIFFERENCE BETWEEN EACH BATCH?
Each batch is drawn from small collections of individual casks, so there will be variation caused simply by one cask giving different flavour to another, even within the bounds of a recipe. We also have 'married' each batch of our recipe of spirits in spent sherry butts for a variety of weeks after maturation to create further variations in flavour. 
-
HOW CAN I 'BE HERE' WITH YOU ONLINE?
The distillery will be closed on 22.09.23 but we will be live-streaming a tasting of 'The First Dram' on our website from 14.15 BST. Simply join us online to share this special moment with us or find us on YouTube on the day.
-
CAN I JOIN YOU IN HARRIS FOR THE LAUNCH WEEKEND AND BUY A BOTTLE TOO?
The distillery will be closed on 22.09.23 for The First Dram. Local bars in Tarbert will have drams to pour that evening however. The distillery shop will be open to all from 10.00 BST on 23.09.23 and we will have music and song to celebrate throughout the day. 
-
I DON'T LIVE IN THE UK...WHAT ABOUT ME?
We do not deliver outside the UK directly, but The Hearach will be available in over 20 countries around the world from October 2023 onwards. A list of international distributors and their contact details for direct enquiries can be found HERE.
-
WHERE CAN I LEARN MORE?

Our Outer Hebridean island's inaugural single malt takes its name from the Scottish Gaelic word for a native of Harris.
Like many words in our beautiful language, it can sometimes be a little tricky to say.
So, watch our wee film and Say The Hearach with us!
#SAYTHEHEARACH
Film by Laurence Winram | Soundtrack by Fraser MacBeath
FROM TIME TO TIME, BE HERE.
SIGN UP FOR ALL THE HEARACH NEWS
WE'LL HAVE LOTS OF UPDATES ON OUR FIRST HISTORIC WHISKY OVER THE COMING MONTHS. JOIN OUR JOURNEY AND WE'LL MAKE SURE YOU'RE ALWAYS FIRST TO HEAR THE LATEST NEWS AND ANNOUNCEMENTS DIRECT FROM THE ISLE OF HARRIS DISTILLERY.
BE FIRST TO HEAR